Beyonce's Halftime Show Performance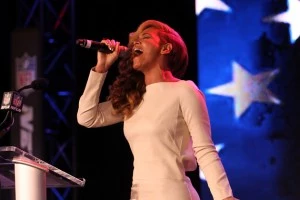 In my opinion, Beyonce put on one of the best Halftime shows I've seen in a long time! She absolutely owned that stage! Everyone was anticipating a reunion of Destiny's Child and sure enough, the rest of Destiny's Child joined Beyonce on stage!
Another aspect of this performance that was highly anticipated was whether or not Beyonce would lip-sync. It is very common for performers to lip-sync performances such as the Super Bowl Halftime show. It looks as though, Beyonce alternated between singing live and then singing along with a voicetrack to catch her breath. There's no question whether or not this woman can sing so to criticize her at all is just rediculous! Simply put, this performance was amazing and I think it was everything fans had hoped for!