Is Nick Jonas Coming Between Selena Gomez + Justin Bieber? [UPDATE]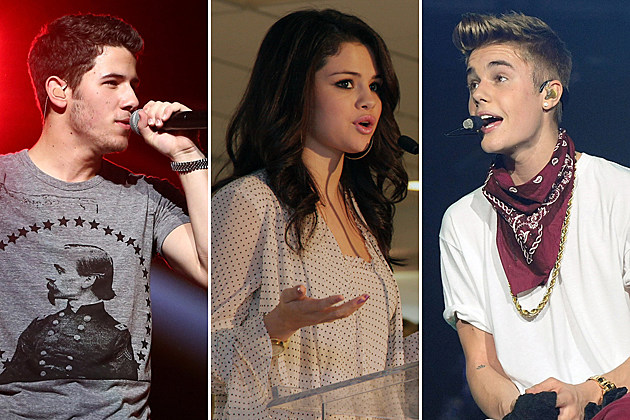 Is there trouble in paradise again for Justin Bieber and Selena Gomez? Rumor has it that Gomez's ex, Nick Jonas, may be coming between the couple — but not in the way you're probably thinking.
A source close to Gomez told Hollywood Life, "Justin and Nick Jonas hung out all last night [Dec. 13]. Selena was crying about it. He wouldn't even return her calls when she found out and called him up." Gomez was devastated by the news, but the guys treated it like no big deal.
In fact, Jonas and Bieber actually tweeted about their hang sesh. "In the studio tonight working on the acoustic album…had some solid ping pong matches but… still #pingpongchampion," Biebs wrote in the wee hours of Dec. 14. Jonas posted, "Just played @justinbieber in ping pong. Went to deuce both times, but he's the ping ping champion. #Igotyounexttime."
It sounds as if it was an innocent, chance encounter in a recording studio that just was made to be less awkward than everyone anticipated.
Still, Gomez has been hinting herself at trouble in some part of her life, though Biebs wasn't specified. On Dec. 11, she posted a photo with her friends, writing, "What I needed right about now!" Further, it's being speculated that her dance video to her BFF Taylor Swift's 'I Knew You Were Trouble' was a message to Bieber (who Swift thinks Sel should dump for good).
Biebs and Sel have had a dramatic few months. After rumors of a split following the Victoria's Secret Fashion Show, the pair have been spotted on dates, but social media drama follows them to this day.
A pal of Gomez insists, "This is why they should break up. She keeps trying and she's heartbroken. It's not working."
Time will tell if Jelena can work it out. We're still rooting for them!
UPDATE: New reports say Justin Bieber and Selena Gomez have broken up, and that Gomez is the one who ended it. "Hanging out with Nick proved that he wants to just be a jerk about this, and Selena's sick of being heartbroken," A source told Hollywood Life. "They are finished, and I think it's for good this time."
Next: Vote Selena Gomez for Best Celeb Perfume!
Watch the Justin Bieber 'Beauty and a Beat' Video Source:
Is Nick Jonas Coming Between Selena Gomez + Justin Bieber? [UPDATE]