Did Katy Perry Steal the Video Idea for 'Washed Up Together'?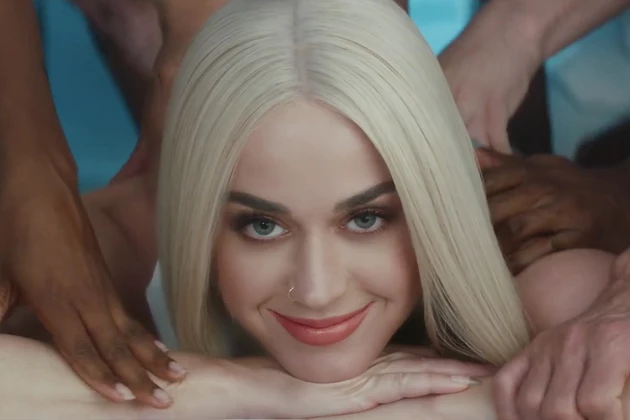 Think long and hard next time you're checking out at the grocery store and the cashier asks, "Paper or plastic?" Apparently, the latter isn't just bad for the environment—it's cause for serious drama amid the music industry and on social media.
On Friday (May 12), Katy Perry released her titillating food/cannibalism/consumerism-themed music video for "Bon Appetit," her Migos-assisted single off her upcoming fourth studio album.
Not soon after the video went live online, music director Titanic Sinclair slammed Perry on Twitter, accusing the pop star of ripping off a scene from "Bon Appetit"—in which she appears shrink-wrapped in plastic like a piece of fresh meat—from the video he directed for Knox Hamilton in 2016, which features people packaged in plastic. And he came with the (grocery) receipts, revealing a screen shot of Perry openly "praising" the video on Twitter.
Here is an old screenshot of @katyperry praising a video I directed and then her blatantly ripping it off in her new video pic.twitter.com/yQ8sFjJZqd

— Titanic Sinclair (@titanicsinclair) May 12, 2017
While the similarity is as clear as, uh, plastic, many fans were quick to point out that Perry herself using the wrapped-in-plastic concept back in 2010, for her "California Gurls" video, and that artists like Shakira, Rihanna, Santigold and others have used similar visuals in their art before.
@titanicsinclair @katyperry Don't even try pic.twitter.com/AZdnk74pAn

— we did it kids (@almostcarly) May 12, 2017
@titanicsinclair @katyperry oh look ! here you are again ripping @Santigold off too. pic.twitter.com/yE0Ksxqjts

— JESSIE J (@JESSIEJFANSUK) May 13, 2017
@titanicsinclair @katyperry Even Shakira did it first, but i'll let her know you were happy to steal her idea pic.twitter.com/y5OuEVtJqj

— JOSĖ (@JOSEGUERRAGH) May 13, 2017
@titanicsinclair @katyperry You did not invent shrink wrap. pic.twitter.com/icBQ3Nta9v

— Joe (@JoePassmore) May 13, 2017
Anyway, the jury's out on this one—but you can take sides if you want. We'll stick to breathing deeply into our paper bag, thank you very much.
Watch Knox Hamilton's "Washed Up Together," below:
To compare, check out Katy Perry's "Bon Appetit":
Katy Perry's Colorful Album Art:

Source:
Did Katy Perry Steal the Video Idea for 'Washed Up Together'?